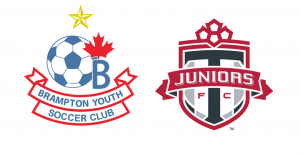 BYSC is excited to continue our partnership with Toronto FC Juniors with a Fall Program starting next week, Wednesday, September 5th, 2018!
The Program includes supplemental training sessions open to all BYSC grassroots players in the U8 to U12 age groups. The training sessions are scheduled weekly starting Wednesday, September 5th until Wednesday, October 31st. In September, training will be held at Creditview and Sandalwood Turf #5 and will move indoors to the Brampton Soccer Centre Field A, starting Wednesday, October 3rd. There will be nine sessions in total.
Toronto FC Juniors is for players who are passionate about soccer and love to play the beautiful game. This is an opportunity for your son/daughter to receive the same training curriculum and methodology used by Toronto FC. Their mission with this partnership is to connect the Ontario grassroots soccer community to the Toronto FC player pathway by offering the most comprehensive, professional and technologically advanced grassroots player development soccer training.
Join our Fall 2018 TFC Juniors program by registering today on our PowerUp Registration site:
https://bramptonsc.powerupsports.com/
We thank our members for supporting our club and the initiatives to further help the youth athletes in our community further develop their game!